Click 2 Call (Call Back Service)

Click 2 Call enables you to start a real time telephonic conversation between your Agents & Customers through various options
Click 2 Call or Call Back Service can be used for Sales, Support, Customer Care and can be integrated with your website or application.
How it Works
.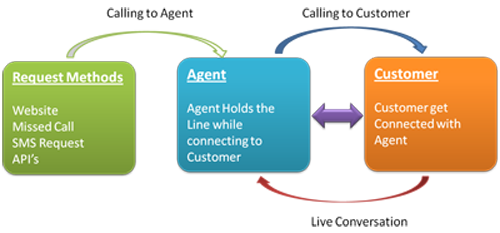 Live Demo

If you need to get a live demo then Just give a Miss Call to : +91-9745872366
After 5 seconds you will get a call with the following IVR
Thank you for testing our Missed Call Push Services "Press 1" to speak with our Sales team "Press 2" to hear this message again "Press 3" to disconnect the call
If you have any doubts then simply "Press 1" to speak with our technical experts else "Press 3" to disconnect the call
Developers API

You can really build lot of interactive stuffs with our Powerful API's like Click 2 Call Widgets, Call Back Widgets and lots more…
Watch – How to Enhance Your Business Communications
"Watch how we can enhance your business communication through a single platform. 10+ Essential Business Communication Tools seamlessly integrated into a scalable, innovative cloud platform, which intelligently automates all your business communication needs."
Features
Build Click 2 Call Widgets
Build Your Own Call Back Service
SMS To Call ( With our 2 Way Messaging)
Missed Call to Call ( With our Missed Call Services)
Powerful API's
Option to Play Your Own Hold Tune/Sound
Option to Set Maximum Duration of the Call