IVR Solutions

Outbound IVR is a technology for delivering automated, phone-based outbound communications. Calls can range from personalized, event-triggered notifications and two-way interactions to broadcast messages to hundreds or even thousands of customers. Outbound IVR can utilize static, recorded messages or dynamic, speech-enabled dialogs with the ability to transfer callers to an agent, record call callers voice etc..
Outbound IVR offers advantages for businesses of all sizes and across verticals, including financial services, healthcare, government, utilities and education.
Watch – How to Enhance Your Business Communications
"Watch how we can enhance your business communication through a single platform. 10+ Essential Business Communication Tools seamlessly integrated into a scalable, innovative cloud platform, which intelligently automates all your business communication needs."
Why IVR?

The use of IVR and voice automation enables a company to improve its customer service and lower its costs, due to the fact that callers' queries can be resolved without the cost of a live agent who, in turn, can be directed to deal with specific areas of the service. If the caller does not find the information they need, or require further assistance, the call is then transferred to an agent who can deal with them directly through CTI integration.
This makes for a more efficient system in which agents have more time to deal with complex interactions, for example, customer retention, up selling, cross selling and issue resolution. This way, the customer is more likely to be satisfied with a personalized service and the interaction is likely to be more fulfilling and rewarding for the agent, as opposed to dealing with basic inquiries that require yes/no responses, such as obtaining customer details. Employee satisfaction is important in any industry due to the fast turnover of staff, IVR is therefore one way of retaining a workforce and allowing them to do a more effective job.
Simple Oubound IVR Flow Chart
.
Above is just an example of Simple Outbound IVR with 4 options, we can customize and build any type of IVR's based on your requirements.. Call 0471 4242424 & Talk with our experts to automate your Outbound Calls
Live Demo of our Simple Outbound Hosted IVR Call

If you need to get a live demo then Just give a Miss Call to : +91-9745872366
After 5 seconds you will get a call with the following IVR
Thank you for testing our Missed Call Push Services "Press 1" to speak with our Sales team "Press 2" to hear this message again "Press 3" to disconnect the call
If you have any doubts then simply "Press 1" to speak with our technical experts else "Press 3" to disconnect the call
Simple Oubound Survey IVR Flow Chart
.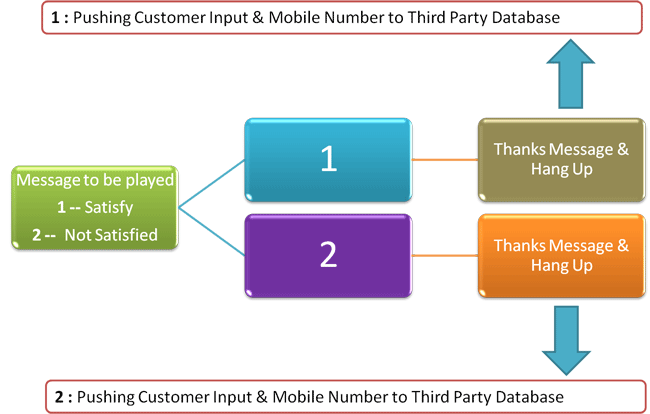 Typical IVR Applications

IVR systems are typically used to service high call volumes, reduce cost and improve the customer experience. Now a days companies are widely using IVR services to extend the business hours of operation to 24 x 7. Examples of typical IVR Applications are ;
Telephone Banking — Balance, Payments, Transfers, Requests
Order Placements — Credit Card Payments, Online Subscriptions
Airline/Train/Buses — Ticket booking, Arrivals, Departures
Customer Services — Virtual Receptionist, Customer Care/Support
Media & Entertainment — Reality Shows, News Updates, Surveys
Hospitals — OP Registrations, Doctor Availability